---
MRB DESIGN AND ALTERATIONS ONE OF A KIND DESIGNS
Designed and hand crafted locally in Kitchener Ontario Canada. Using only 100 % recycled fabrics and materials. My one of a kind designs are truly one of a kind! Its my passion to save the environment and landfills of all this beautiful fabirc and turn it into a one of a kind design just for you! Any style can be customized to your measurements! Please inquire about my measurement chart to customize your dress!
---
About Me
I am Meghan Rachel Bambach of MRB Design and Alterations. I began my love of sewing and creating when I was just a small child. I remember watching my Grandmother and Mother make stuffed animals seeing them turn them inside out and thinking I can do that too! A sewing machine was always available in my house so I was always sewing and creating toys or clothing for my dolls! Growing up I was always a plus sized girl, and like many other girls didn't love shopping because I never could find anything that fit.  After realizing that I could find clothing and alter it to my body shape it helped me realize that it wasn't my body that was wrong, it was the clothes! Giving this feeling to other women is my career and life mission!
Into high school I continued my love of sewing, although I remember being embarrassed to be seen sewing because it was not "cool" so I would turn off the lights in my sewing room at night so people walking by my house wouldn't see me sewing and I would sew in the dark. But I loved being able to draw a picture and make it! Through high school at EDSS I would create my own prom dresses or semiformal dresses for me and my friends. I felt this was amazing, my friends wanting me to make them dresses!! I would sit in the hallways during my spares and instead of studying Math or English I would design and sketch Oscar dresses for celebrities. At the end of high school, I was going to choose Graphic Design or Fine Arts to study but I wasn't really sure about either.  Then one of my teachers went above and beyond. This teacher sought out a private art school in Toronto and recommended they contact me, saying how talented I was in fashion design and sewing.  I am truly grateful and indebted to this teacher to this day to have seen this inside me. I met with the Dean and they offered me a Scholarship.  I attended the International Academy of Design and Technology.  Learning from a private school and receiving my diploma in Fashion Design has helped set me up to create my own business with confidence, refining my skills in many different aspects of being a fashion designer. But it is always an everyday learning experience!
I graduated in 2006 with my diploma in fashion design with an overall percentile of 98%, I moved back home from Toronto and began my own small business sewing on the side and went back to my afternoon job at Weston's Bakery.  After finishing Fashion Design school and loosing my passion for sewing for a while and being sucked back into my factory job I decided to take a chance! The factory was downsizing and giving out packages so I took a package after 13 years of dedicated work and I said goodbye to my Weston's family to then went to work in my own industry.  I began a job working at an alteration shop in a mall, and quickly they could tell I was talented and would be a huge asset to their team.  But working in the industry is like sweat shop labor if I am being honest.  I paid 80K plus for private school but working in my industry for minimum wage. I had to accept this fact until my student debt was paid off.  The level of knowledge I gathered during this time was worth all the struggles. Building my business on the side by word of mouth or refrence I have always strived to give my clients good quality sewing for fair pricing.  That's what I want everyone to feel when working with me. That I only want the best for them and want them to feel there best! After 11 years of paying off school debt I was finally able to leave my fulltime sewing job and go full time working for myself! It was a dream come true! I worked for 3 more years to save up to finally move out of my parent's house and venture out on my own again. Moving into my home October 2019 which houses my shop, salon and workspace.  Since Covid-19 began it is very difficult for many small businesses to stay open but I will fight and not give up! During this difficult covid19 time I have been honored to not only be nominated but receive the Diamond Winner for KW Readers Choice award for Dress Maker. To be honored with this award and to be chosen and recognized by my community has given me the strength to keep fighting to keep my small business open and going! For every stich I have made on my sewing machine has brought me to this point and I truly appreciate everyone's support!
I have never been a typical fashion designer. I don't know popular labels or care to wear them. I have always been a big supporter of second hand or thrift shopping.  Seeing what the fast fashion industry is doing to the earth is devastating to me! The fast fashion industry and then women still not feeling good in those garments instead of altering them, is devastating to me. Landfills rising with clothing that's polluting our earth. I want to STOP this! One day I was shopping a popular second hand store and I went down an isle I had never gone down before. Something caught my eye! It was fabric but when I looked at it, I saw a prom dress! That moment I realized I could purchase beautiful second hand fabric. I began creating one of a kind creations from this fabric! Saving all this beautiful fabric from the land fill and hand making it into one of a kind garments. I began with prom dresses then wedding dresses and then causal clothing styles.  When I design these creations, I'm inspired by the materials and designs organically flowing though my hands.  Sewing and creating is life to me and realizing people want to purchase my designs and support saving the earth through my one of a kind designs is a true blessing. Each dress I believe has a dress destiny. One special person meant for one special dress.
To everyone who has supported me ever, I appreciate you for allowing me to be who I am, to be an artist and too feel loved. I am always here to help!
 XO MRB
MRB DESIGN AND ALTERATIONS
MRB DESIGN AND ALTERATIONS
ENTRANCE
FITTING ROOM
CHANGING AREA
THANKYOU!
Image slide
Clothing Alterations Price list
All clothing alterations are possible. Clothing alterations or clothing repair. Message today for your free quote. All garments must always be clean to enter the salon. The salon is following all Covid 19 protocols to ensure mine and all clients safety. Please inquire for further pricing or any inquiries.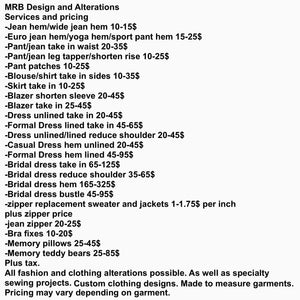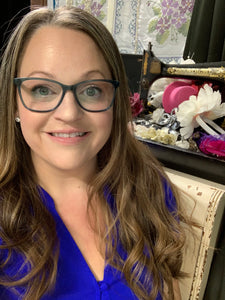 I am Meghan Rachel Bambach of MRB Design and Alterations and Im always here to help! Female only salon but I will help male clients at the door drop off and cash pickup but unfortunatly male clients cannot enter the salon. I appreciate being able to help as much as I can!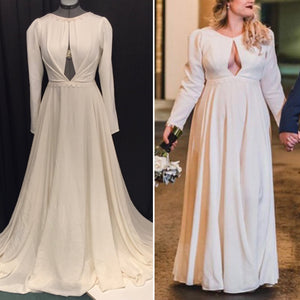 ONE OF MY BEAUTIFUL BRIDES
My beautiful bride choose one of my styles to wear on her special day! Alterations are included in price point. So fitting the gown to your body is included in the price. This includes hem and take in or fit. Any style can be fit to any size. I am the designer and I keep the fabrics to make them larger if someone is in love with a certain style any style can be made to fit!
---
ONE OF A KIND WEDDING DRESS DESIGNS